Do you experience anxiety when you think about going to the dentist? Millions of people all around the United States have some feelings of trepidation or concern when it comes to their dental health.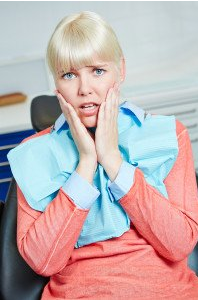 Trustworthy, reliable dentists understand that you want a calm and relaxing environment when you see them. However, there are also steps you can take to help you reduce your dental anxiety.
Here are some important facts for you to know:
— Dental anxiety is one of the most common fears in adults, so remember that you are not alone.
— Many dental health issues are often quick and easy to address if they are diagnosed early on.
— Restorative and preventative dentistry can help you, even if you haven't seen a dentist in years.
When it comes to dental anxiety, one of the most important things you can do is be open and honest with your dentist. Being forthright about your concerns and needs will help ensure the dentist can make suitable accommodations.
Some common concerns include:
1) Fear of Pain
Understand that today's dentistry is very advanced compared to what you might have been used to years ago. Many procedures that might have been invasive at one time are now completed in a much faster manner, with little or no discomfort.
2) Concern About Anesthesia
In a dentist's office, the utmost care is taken in the use of any anesthesia. Some people have a concern that anesthesia might not work. On the other hand, many patients actually request full sedation so that they needn't worry during a procedure.
3) Concerns About Personal Space or Embarrassment
If you are self-conscious or concerned about your mouth in some way, speak to your dentist to find out what steps you can take before the procedure. A rinse, flossing, or brushing directly before the procedure might help.
Dental anxiety often fades away after a first successful procedure. Until you feel comfortable, it is a good idea to establish a hand signal you can use if you need your dentist to stop right away. Your comfort is critical to any procedure!
Here are some ideas on making a dental procedure easier:
— Go to bed early the day before and do your best to get sufficient rest.
— Plan for a "reward" that you will get immediately after the procedure.
— Practice deep breathing, which can help anxiety during a procedure.
— Bring a supportive friend or family member to your office visit.
Need a dentist in Encino, Sherman Oaks, or Tarzana? Our supportive dental office will help you get the care you need!